Last weekend our
costumed carolers
strolled Woodbury Lakes Mall and sang holiday songs for the shoppers. I always bring two pitch pipes for our a cappella quartet: one electronic and one traditional. I primarily use the electronic push button pitch pipe and have the traditional round pitch pipe as a back up. I needed that back up when the electronic one stopped working in the cold this last weekend. It started working again when we warmed up on our break. Luckily we don't have too many outdoor events.
Below is my comparison of the two pitch pipes.
---
Electronic Pitch Pipe (Farley's)
Pitches - always perfectly in tune
Sound - electronic beep with a volume control
Working Reliability - relies on batteries (3 watch batteries) with no battery level gauge
Accidental Trigger - the buttons can get bumped while in a vest or pants pocket and the sound doesn't stop until you hit it again
Traditional Pitch Pipe (Master-Key)
Pitches - the pitches can vary slightly from blowing too hard or from very cold temperature
Sound - like a single note on a harmonica
Working Reliability - sometimes it can start to have problems in cold conditions but continues to work poorly. I've read that debris obstruction can stop it from making any sound.
Accidental Trigger - not an issue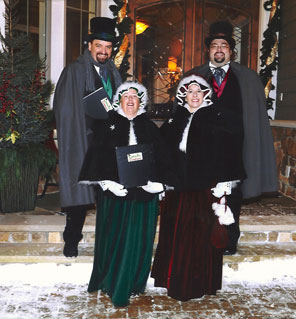 The Caroling Company, MN
I've found that the electronic pitch pipe works best when I need a pitch fast, but I still need that traditional back up every now and then. With the electronic pitch pipe I've had the batteries die while on the job, I've had the cold make it stop working temporarily, and I've had it slip through a vest pocket hole to be found later in the lining at the small of my back.
A third option would be for me to get a pitch pipe app for a smart phone. I just don't like the way it would look if one of our Victorian carolers was "checking his phone between songs" - not an option for our group.